Nuits Sonores 2018
06 mai 2018 17:00 – 13 mai 2018 20:00
Lyon, Auvergne-Rhône-Alpes, France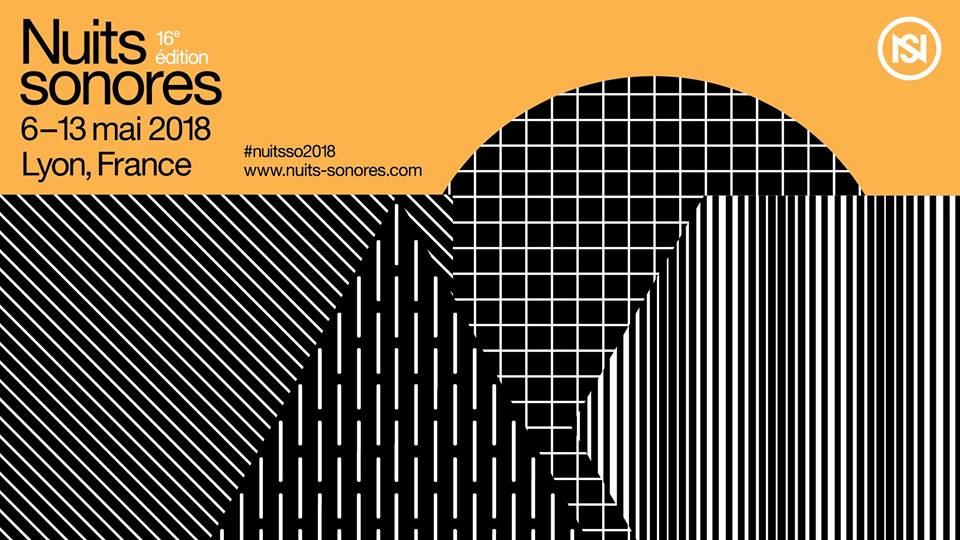 Parce que les congés du mardi 8 mai et du Jeudi de l'Ascension (10 mai) s'enchaînent, la 16e édition de Nuits sonores durera exceptionnellement 8 jours, du dimanche 6 au dimanche 13 mai 2018. 
Identité visuelle : Montague Projects

————— PROGRAMME —————

Sun. 6 May :
- Sunday Park ☀️
Mon. 7 May :
- Nuits sonores Opening ?
Tue. 8 May :
- Day 1 : A Day with Jennifer Cardini, w/ 
Maceo Plex, I:cube, Dopplereffekt; Borusiade, DAS IST DAF, Job Jobse, Javi Redondo, Skatebård, Mozhgan, Josh Cheon☀️
- Carte blanche à Amsterdam : Altın Gün, Bruxas, Jamie Tiller & Tako ☀️
- Mini sonore ☀️
- Kamasi Washington : Concert spécial Nuits sonores 2018 ! ?
Wed. 9 May :
- Carte blanche à Amsterdam : Dollkraut, parrish smith, Izabel ☀️
- Mini sonore ☀️
- Nuit 1 : Rone live, Maetrik live, Antal b2b Hunee, Lunice, Caballero & JeanJass & friends présentent High & Fines Herbes, Agents Of Time, La Smala, Gracy Hopkins, Or:la, Chloé — Endless Revisions live, Tryphème, DJ Okapi, Richard Foe Grainger, Tshegue, DJ Lag, DJ P ?
Thur. 10 May :
- Day 2 : A Day with Daniel Avery, w/ Helena Hauff, DJ NOBU (OFFICIAL),Objekt b2b Call Super, Lena Willikens, Alessandro Cortini, HAAi-, Tropic of Cancer, Lanark Artefax, Dr. Rubinstein ☀️
- Carte blanche à Amsterdam : Orpheu The Wizard, Olaf Boswijk, Gilb'r b2b Oceanic ☀️
- Mini sonore ☀️
- Nuit 2 / Le circuit : 17 étapes : L'ambassade, Ayers Rock Boat Lyon, AZAR Club, Bellona CLUB, Capsule, L'épicerie moderne / salle musiques actuelles, Groom, Le Lavoir Public, La Maison M,
Marché Gare, La Plateforme x Encore, Le Périscope : Malka Tuti label night, Le Petit Salon, Ninkasi, Sonic Lyon, Terminal x Tunnel Vision, Le Transbordeur ?
Fri. 11 May:
- Day 3 : A Day with Four Tet, w/ Floating Points dj set, Pearson Sound,James Holden & The Animal Spirits, Josey Rebelle, Binker and Moses,Karen Gwyer, Mafalda, Chris Menist☀️
- Night 3 : Bicep live, Underground Kaoz : Kerri Chandler x Jeremy Underground, Mr Fingers aka Larry Heard live, Folamour, Ben Frost live a/v, Lee Gamble live a/v, DJ AZF, Raime live, Avalon Emerson, JAKAM & The Ritual Forces, Ko Shin Moon, Red Axes live, Ifriqiyya Électrique, Raymonde live, Young Wolf live (aka Young Marco & Wolf Müller) 
Sat. 12 May :
- Day 4 : A Day with Paula Temple, w/ Amelie Lens, Rebekah, Femanyst akaLady Blacktronika, Aïsha Devi, DJ Stingray, SØS Gunver Ryberg,rRoxymore, BOBBIE*, Moor Mother, Pan Daijing ☀️
- Night 4 : Action Bronson, Peggy Gou, Fixmer/McCarthy, The Hacker, Not Waving live, Il Est Vilaine, Le Camion Bazar, Chancha Via Circuito, Dengue Dengue Dengue, Voilaaa Soundsystem, Low Wemblers de Iquitos, Les Fils de Jacob, Ammar 808 & The Maghreb United ?
Sun. 13 May :
- Closing Day : Laurent Garnier, The Black Madonna, Laurent Garnier b2b The Black Madonna, Clémentine, KiNK 4h live, Juliano, MCDE Recordings 10 Year anniversary : Motor City Drum Ensemble, Pablo Valentino, Henry Wu ☀️